HISTORY
of the Chorus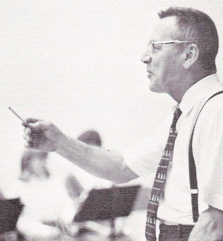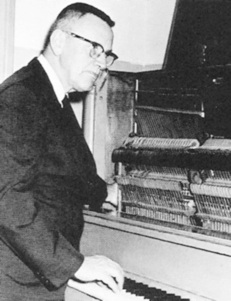 The vision for what has become the annual tradition of the Orrville Community Chorus began with one man, Victor Gerber. Victor (Vic) first performed "Messiah" in 1928 at Bluffton College, playing viola in a concert featuring a 200-voice choir accompanied by orchestra. In a 1993 interview Vic said, "I fell in love with the work and asked my minister, The Rev. A.R. Kaiser, if it could be sung in my home congregation at Salem Mennonite." The minister agreed. In 1932, Vic directed performances of Handel's "Messiah" at Salem Mennonite Church near Kidron and the First Presbyterian Church in Dalton. Corrine Gerber Krehbiel, Vic's sister, was the first piano accompanist. Thus began a tradition that continues to this day.
In 1943, because of a shortage of male singers due to World War II, Vic invited the Orrville Men's Chorus to join his church choir singers. This was the beginning of the Orrville Community Chorus. Performances of "Messiah" were held at Orrville High School during the 1950s, '60s, and '70s. It was later presented at Christian & Missionary Alliance Church and Church of Christ in Orrville and at Living Water Church near Dalton. The performance moved to Central Christian School in 2008.
Victor Gerber conducted the performances until 1982. A long-time and respected Dalton music teacher and piano tuner, he died in March 2001.
In the tradition started by Victor Gerber, the Orrville Community Chorus continues to provide the opportunity for people to experience Handel's "Messiah", either through singing in the Chorus or attending the performance. The Chorus is also pleased to give back to the community through the Victor Gerber Memorial Music Scholarship.